MEET YOUR TEAM
hey there!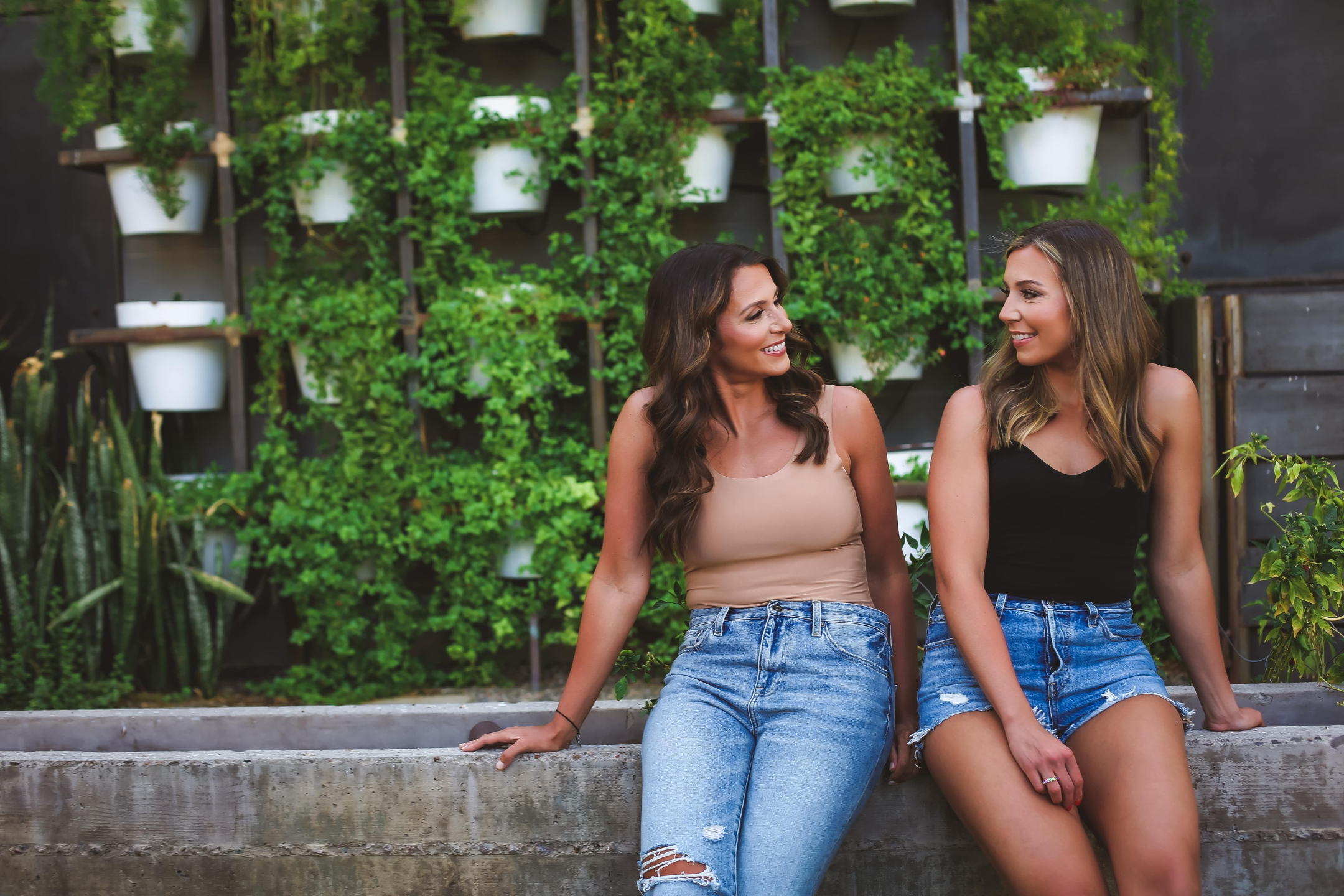 We're Jess & Melissa
We're sisters & best friends on a mission to help women finally escape the seemingly endless cycle of yo-yo dieting.
After years of jumping from one fad diet to the next, we finally discovered the path to creating lasting results without extreme restriction or endless hours of cardio.
But our transformation was more than just physical. It up-leveled our health, our relationships, our careers, and even our finances. We felt strong, and capable of achieving anything. We felt confident and ready to take on the world.
Our transformation was so fundamentally life-changing that we made it our responsibility to share our knowledge with as many women as possible and give them the tools and education they need to create a healthy, powerful life.
Since then, we have helped thousands of women lose fat, create a better relationship with food, regain their confidence, and form a new identity they never thought possible.
And now, we want to help you too!
When you join Legacy, we'll be with you every step of the way on your journey. You'll also get full access to our entire team of coaches and community support members.
Meet our amazing team below!
Sierra
Head Coach
Hey, I'm Sierra! My other names include: mom, mama, military wife, educator, coach, & my favorite Actionista. I live in Virginia Beach, VA (it's home for now- as my hubs is in the US Navy). If we were chatting & you asked me where I was from I'd tell you TEXAS. I have an amazing little family with my husband, 2 sons, & my 2 dogs- and we are quite the wild bunch.
My journey with dieting started when I was 8. It was the first time I heard the word diet and it's when food became my enemy. By age 10, I hated my body & I was labeling foods as "good" and "bad." At age 16, I found low calories & excessive cardio and I lost a whole bunch of weight, yet still felt unhappy. I continued struggling with food & exercise throughout my college years, into my 20s and all the way until I was 30 trying every fad diet, always losing the weight only to regain it.
After having my first son, I realized I HAD to do something different after I tried another attempt back at really low calories & oodles of cardio. I realized I wasn't going to be able to do that for forever. Fear consumed me that if I didn't change, my son (now sons) would be just like me, sharing a terrible relationship with food. That's when I started learning and I found lifting weights & flexible dieting, but really what I found was MY LIFE. The journey CHANGED MY LIFE. So I continued my journey by becoming a Nutrition Coach & Personal Trainer. (And I haven't stopped learning since!)
I've spent my years as an Educator & also working as an Instructional Coach with teachers- helping people & coaching has always been at my core. But after being through the gambit of yo-yo dieting & feeling trapped in my own body, I realized that my true passion was to help other women level up their lives, feel strong, and be an Actionista - taking imperfect, messy action & crush their goals one step at a time. I love that I get to watch women crush their goals & lives EVERY DAY.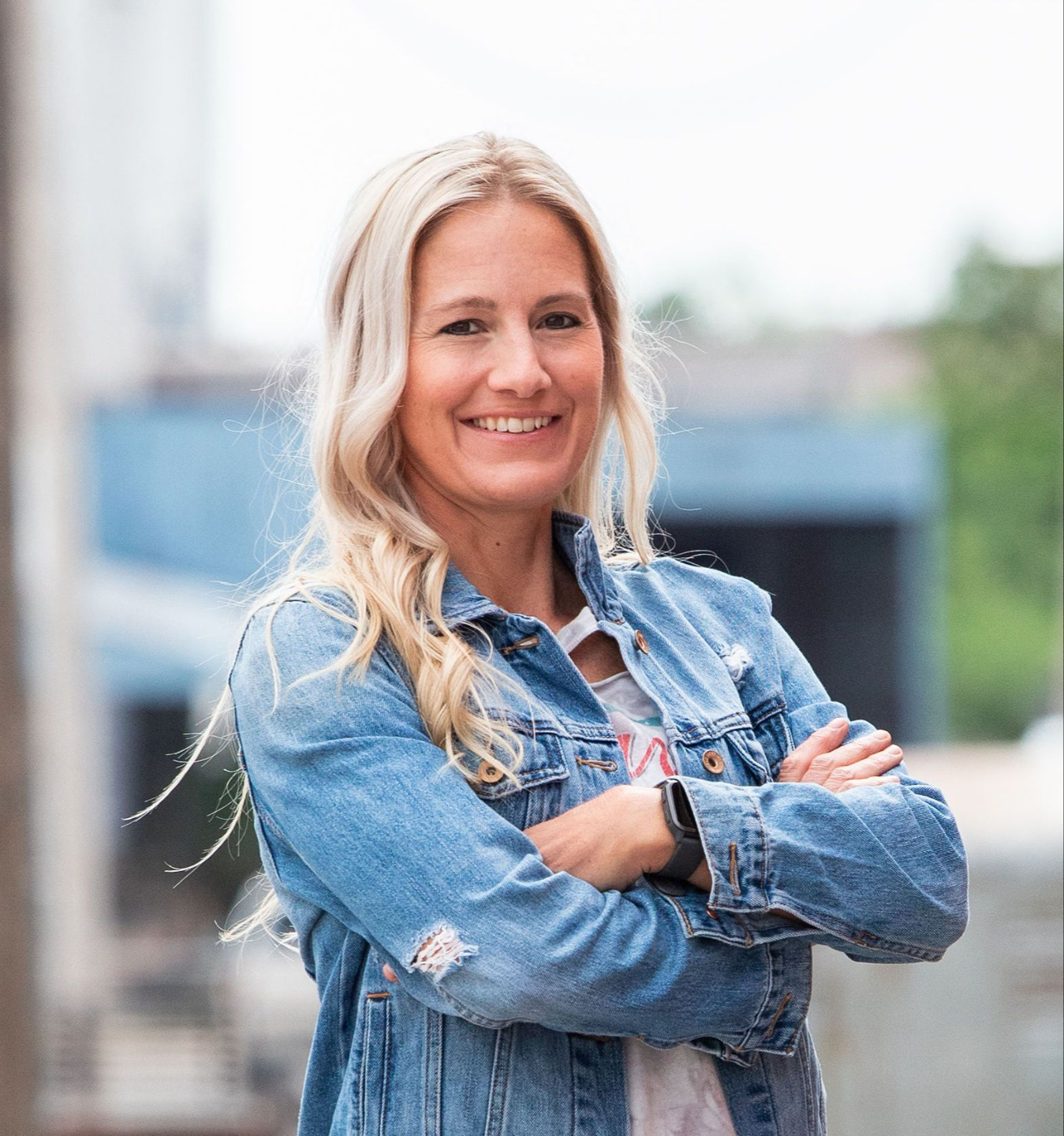 Coach Leslie
Hey, I'm Leslie! I have lived in Weatherford, OK my whole life. I am happily married, and have 4 children, 2 boys and 2 girls. All of my kids have been very active in sports growing up, and I spend a lot of my time at football games, basketball gyms, or at a baseball or softball field. And I wouldn't change that for anything! My family is very important to me.
That's how I became so involved in fitness and coaching. After having kids, I learned real quick that baby weight doesn't just magically disappear! I started learning and researching different techniques, and programs to incorporate to lose weight and become fit. Plus, I wanted to be able to keep up with all my kids!
After trying every restrictive diet fad invented, and doing hours and hours of cardio, I finally figured out that I was just spinning my wheels. I finally learned how to properly eat, strength train several times a week, and stay active without tons of cardio.
I love all things fitness and nutrition and want to share my passion with other women to learn how to feel good without being so restrictive.
After years of working in an accounting business, I left the corporate office and pursued fitness coaching. I have level 1& 2 nutrition certifications from NCI, as well as certifications in hormonal health, and mindset training.
I am so happy to be part of this team that is helping women change their lives, feel better, and look better. I love coaching because I get to see women completely transform their lives!!
For a fun fact - my favorite food is peanut butter (it has to be crunchy… and I will fight you on this)... followed by coffee (coffee can pretty much be considered a food, right?).
Coach Katie
Hey, I'm Katie! I'm from Eugene Oregon, and a mom of two girls ages 2 and 5.
After having children I was at my highest weight and my clothes didn't fit, I stopped going to family events/birthdays, and I was buying every diet pill and wrap off the internet I could find. The circle just never ended. I didn't want my daughters to grow up seeing their mom set an example of restriction and self-sabotage and think it was normal. I knew I had to make a change.
I finally reached out to a coach because I was desperate, and I was tired of continuing this cycle I had myself in. It was truly exhausting. Working with a coach gave me the freedom to enjoy my life, stop saying no to events with my family, and was there to believe in me when I needed the extra shove. It was the best investment I've ever made in myself and for my family. I was able to really start living my life and be present in each moment for my husband and kids.
I became passionate about coaching after my own personal journey of working with a coach, so I decided to become a certified nutrition coach, personal trainer, and weight loss coach through ISSA. I'm always continuing to further my education to be the best coach I can be for my clients!
On the weekends you can find us camping, riding dirt bikes, fishing or on some adventure that usually includes pizza!
Coach Taylor
Hey! My name is Taylor and I am a Registered Dietitian and Certified Personal Trainer from Michigan!
I have been coaching for about four years and have fallen in love with watching people transform their lives through fitness and nutrition.
I love coaching because not only do I get to help create a process that works specifically for you, but I get to be your #1 supporter and help you navigate how to make this work long term, as both your coach and friend.
With so much overwhelming information out there, my goal is to make this process as straightforward and simple for you as possible while still making it FUN.
Coach Dorota
Hi! My name is Dorota, and I am a certified trainer and health coach. I am originally from Poland but I've been living in the USA since 2009, currently in Jersey City, NJ.
My journey began in 2013 when I fell in love with all things fitness and decided to help others create a more active lifestyle. Throughout the years, I struggled with finding balance in my life that works for me. I was caught up in constant dieting and excessive exercising. And even when I was in a "good" place, and I might have looked fit on the outside… my mind was not. I was constantly beating myself up for not being good enough. 
In 2019 I fully committed to my own journey of self-development.  I went through an internal shift that caused an external shift. I lost weight, but the most important thing is that I finally started to feel comfortable in my body for the first time in my life.
My mission is to help women create powerful relationships with their body so they can feel comfortable in their own skin. My approach to weight loss is different because I believe that life lasting transformation starts in your mind.  I work hard to deliver the best results to my clients.
I am proudly certified: Personal Trainer through NSCA, Master Nutrition Coach through Precision Nutrition Level 1 & 2, Pre and Post Natal Coach through Girls Gone Strong, Online Trainer through Online Trainer Academy.
Coach Danielle
Hi, I'm Danielle! I live in Sandy Hook, CT with my husband, son, and 2 dogs. If I'm not at the gym, you can most likely find me in the kitchen cooking up something yummy and macro friendly, spending time with my family, or at a sporting event for our son!
In February of 2020, I found myself at my highest weight ever and wearing a size I never imagined I would be. This affected me physically because I was not able to be the best mom and wife possible and it also affected me mentally because I was ashamed of the way I looked and how I had let my health go. I had tried every diet under the sun, and I would stick with it for a few weeks or months, but I never fully committed or had anyone holding me accountable. It wasn't until I found JMSA and they introduced me to macro counting and strength training that I truly started to take control back of my life.
Fast forward almost 2 years later, and I not only have lost over 90 pounds and countless inches, but I have gotten my life back - I'm the healthiest I have ever been, I'm excited about life and confident with my physical appearance (it's fun to get dressed again!), and I'm truly living my best life possible and being the best wife and mom that I can be! I've found a lifestyle that is sustainable and flexible and adapts as I change and evolve. I don't have to restrict myself from my favorite foods anymore - rather, I can build them into my day and enjoy them! I have learned to love fueling my body with wholesome and nutritious foods and using that as fuel to lift the heavy weights at the gym!
I truly fell in love with my new life that I knew I wanted to pay it forward and help others live their best life just like Jessica and Melissa have done for me. It was then that I decided to become a coach! After talking with Jessica and Melissa and seeing how fast our team was growing, I approached them about becoming a coach for JMSA... and the rest is history! Seeing others succeed and have success with flexible dieting and get their lives back by becoming healthier, gaining confidence again, and learning food freedom is so rewarding - I'm truly blessed by each of my clients.
"It's never too late to make a change and start living well."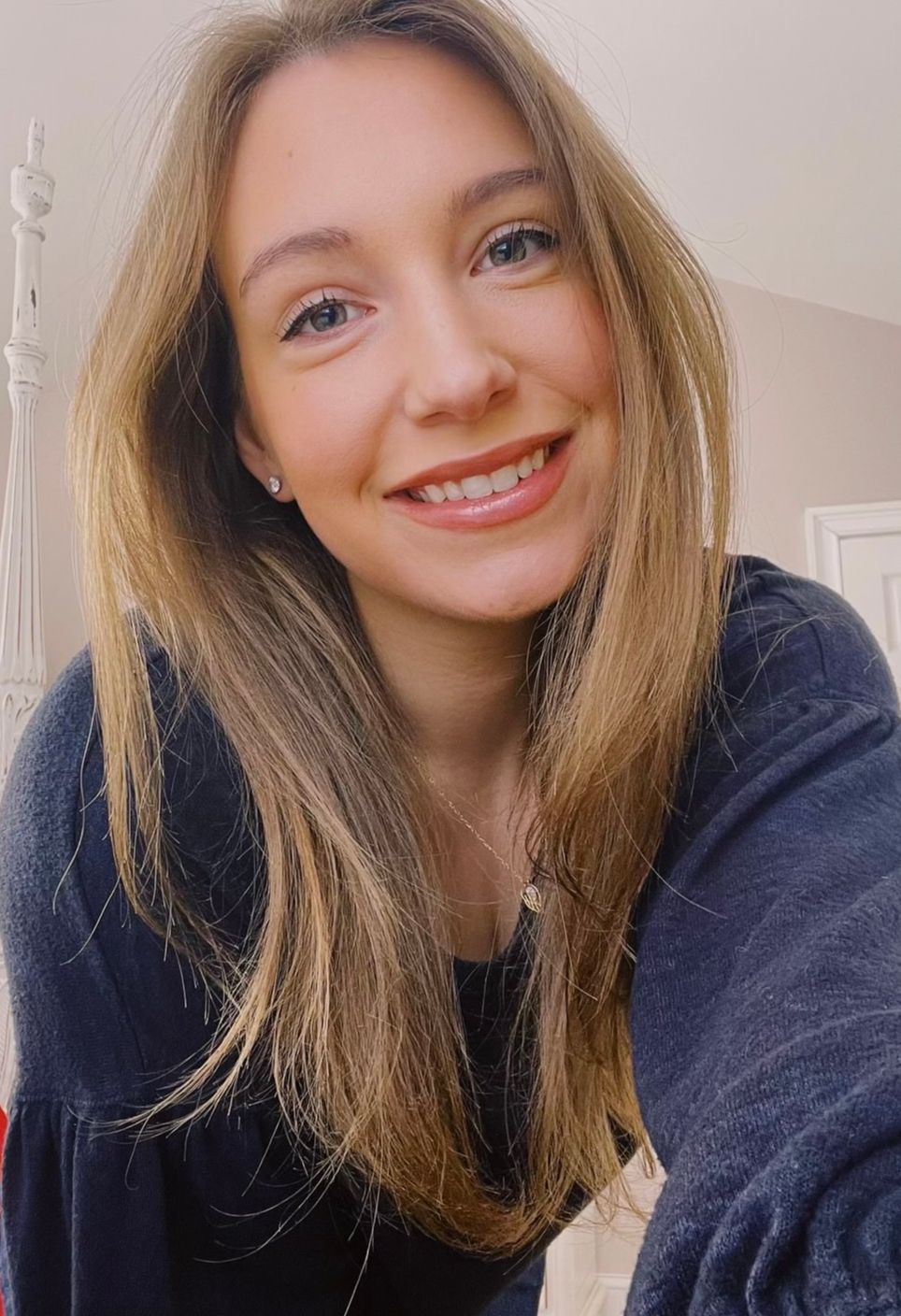 Michelle
Client Success Manager
Hi there! I'm Michelle and I am the Client Success Manager here at JM Strength Academy. I live in Connecticut where I attended Fairfield University and earned my degree in Psychology and Behavioral Neuroscience.
I began my health and fitness journey with JM Strength Academy about two years ago. I grew up training pre-professionally in ballet, so I was always very thin, but had a strained and unhealthy relationship with food.
When I gave up dancing and entered college, I started putting weight which negatively affected me mentally and emotionally. Eventually, I decided that although it was normal for me to gain some weight as I matured into adulthood, I still had the ability to achieve the physique I had always wanted.
Working with JM Strength Academy helped me to change my relationship with food, and create a body that I feel confident in, happy with, and empowered in. I also made a huge positive shift in my mindset, which was something I had especially struggled with. Ever since, I knew that I wanted to be a part of the JMSA team and play a role in helping others find the same success and personal growth that I did.
I love being the Client Success Manager for our JMSA team because it truly lights me up to be able to connect with clients, provide them with any additional support or resources that they need to be successful, and ultimately watch them evolve and thrive. Playing a small part in helping women transform into the best, most elevated version of themselves is truly the most special and rewarding experience to me!
As for a few fun facts about me: I am absolutely fascinated by psychology and mental health, and hope to one day become a Clinical Mental Health Counselor. In my free time, I love traveling and exploring new cities, skiing, and all things chocolate (I have THE biggest sweet tooth!!).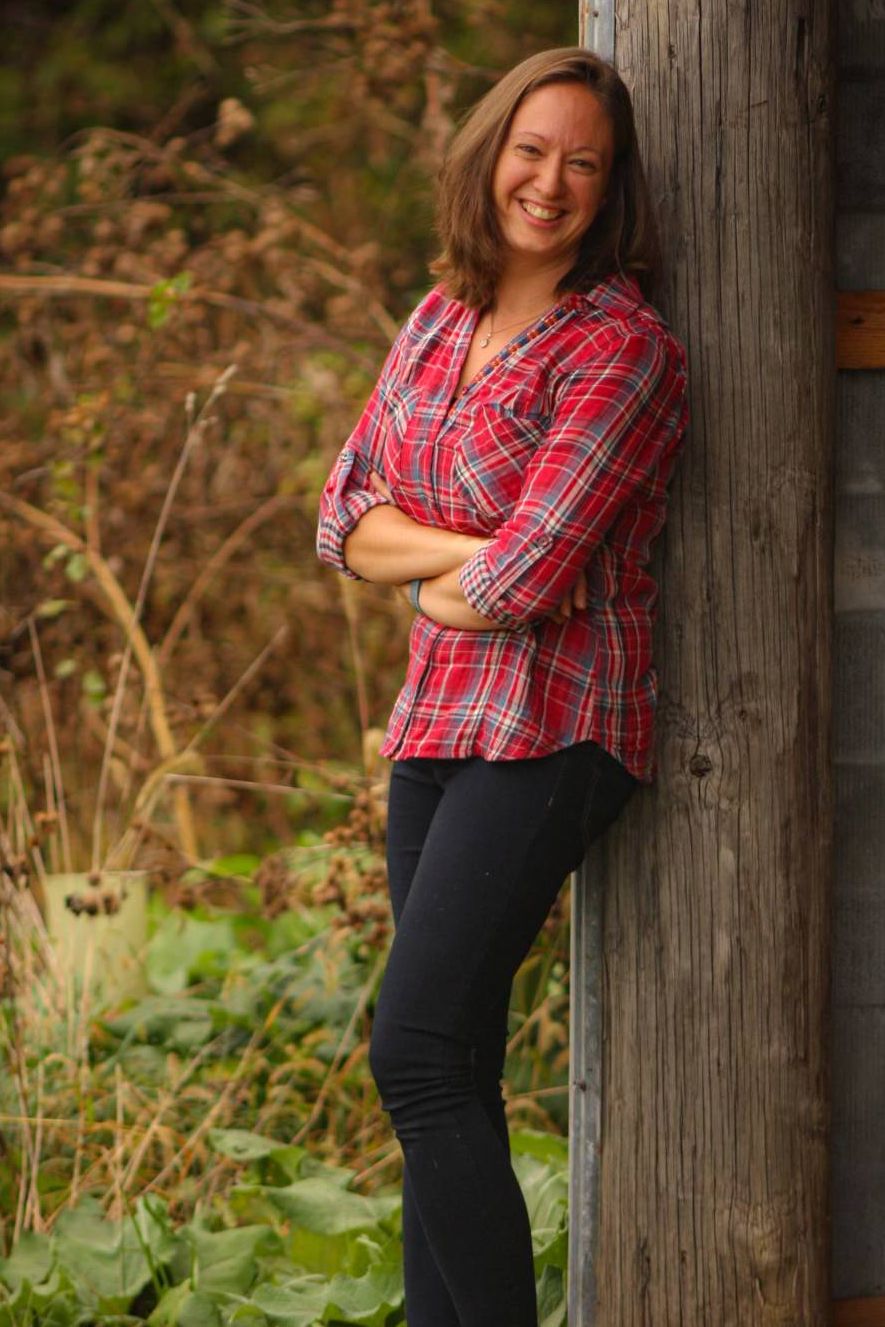 Kristen
Community Success Manager
I'm a wife and mother of 2 beautiful girls, ages 5 and 3. We live right in the center of Lancaster PA, amidst all of the Amish people. If you know anything about the Amish, they don't just drive horses and buggies everywhere and live without electricity, they are also amazing bakers. You haven't lived until you've had an Amish donut made with real lard, Shoo-fly pie, Whoopie pie and all the other delicious foods that are my daily temptations.
My husband, Ryan and I have been married for 10 years and we enjoy pretty much every outdoor activity there is- hiking, biking, camping, hunting, and canoeing. Whenever we have a free minute we are away at our family cabins.
My weight loss journey is similar to a lot of people. After having my children, I found myself 75lbs heavier than I've ever been and unable to keep up with the active lifestyle that my family enjoys. I wanted to be able to keep up with them and enjoy every moment of my children growing up, not sitting on the sidelines watching them play. I also used to be able to keep up with my husband on all his adventures, however I found myself missing out on those times as well. I found myself moody and miserable and taking it out on everyone around me.
I tried a number of different yo-yo diets trying to lose the weight that had been continuing to pile on year after year. I was about ready to just give up and stay like this forever. One day I stumbled upon Jess and Melissa's page and I reached out to them. That was my turning point.
I trusted them. Period. I signed up as a client in March 2021, and my life hasn't been the same since! Melissa has been my 1:1 coach and I couldn't be more thankful for her advice and guidance in my journey! She is the reason that I've decided it's time to start paying it forward. I have a passion to help people who are struggling with the damaging cycle of yo-yo dieting the way I did for so long. I love my job working with Jess & Melissa, and the entire team, because it gives me the opportunity to impact others in their journey.
I believe so strongly in what we are doing! The fact that we are helping other people find food freedom and become stronger than they ever thought was possible is very fulfilling to me. I know that it's achievable because I've seen it happen with me, and I want to make that difference in someone else's life as well!
Katie
Community Growth Manager
Hi! I'm Katie, mom to 2, wife to one!
I spend most of my days feeding, snuggling, cleaning up after, loving on, staring at, carting around, and obsessing over my beautiful children, Beau and Josie, alongside my husband (and HS sweetie) Ryan. I grew up knowing Jess and Melissa, attending the same schools that my children will now attend.
2020 was a rotten year for so many people around the world. For me, personally, it was a rollercoaster of a year. Starting off with the quarantining and lockdowns, having a toddler, that toddler being diagnosed Nonverbal Autistic, unfinished home renovations that got halted due to shortages and inflation during the covid crisis… it was all to easy for me to give up on myself and focus all my limited energies into everything and everyone else.
Then I saw my first JMSA post on Facebook, and recognized those beautiful faces. Their message was so clear and strong, it woke me up to the fact that I had been trying to pour from an empty cup. We connected, they got me started immediately, and they literally changed my life.
With all the education I've received through their program, I can confidently say I'm a stronger person in every sense, and possibly even a better mother.
So I'm here because I truly want other woman to experience this for themselves, as well. JMSA holds a massive plot of land in my heart, and I'm just so happy to be here!